About The Backyardigans
The Backyardigans is a CGI-animated musical adventure series. In each episode, the show's five stars - Uniqua the unique creature, Pablo the penguin, Tyrone the moose, Tasha the hippo, and Austin the kangaroo - rely on their vivid imaginations to transform their backyard into a fantastical 3-D landscape. Together, they embark on amazing journeys set to different music genres.
The show ran for almost nine years, from October 11, 2004, to July 12, 2013. Reruns of the show are aired on Nickelodeon channels worldwide.
"For the Love of Socks!" is an episode of The Backyardigans from the fourth season.
Summary

The Backyardigans love making socks at the sock factory, but after an accident, they must venture into the giant sock machine itself to save socks for all of humanity.
Trivia

Gallery

This episode's gallery is available here.

Featured Character: Rex Robot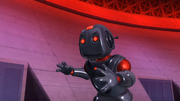 Rex Robot is a minor character in The Backyardigans.
Description

Rex Robot is Professor Bug's robotic servant. He is twice as large as the other robots in Mega City and speaks with a deep, intimidating voice.

Looks

Rex Robot is a shade of dark gray. He has red forearms and forelegs. His eyes are light red. There is a dark blue-gray access panel on his chest.

Appearances

Rex Robot has appeared in one episode of The Backyardigans: "Robot Rampage: Part 2" from season four.

Scientist Pablo is a researcher who works at a university along with his assistant Uniqua.
Looks

Scientist Pablo is primarily blue. He wears a white lab coat with a red polka-dotted bowtie and black glasses.

Appearances

Pablo has played Scientist Pablo in one episode of The Backyardigans: "Attack of the 50 Foot Worman" from season four.

For more like this, check out our other videos!