Janice Burgess (born 1954) is the creator and executive producer of The Backyardigans. After the show ended, she stayed at Nickelodeon, where she became a story editor and writer for Winx Club.
Writing credits
Burgess wrote the following episodes of the series:
Biography
Janice grew up in Squirrel Hill, a neighborhood in the East End of Pittsburgh, Pennsylvania. She graduated from Brandeis University in 1974 with a degree in art history. Janice didn't enjoy traveling "in art circles with collectors and high society," so she looked for a different career after college.
Janice volunteered for a job at a local TV station, WQED, where she was put in charge of craft services (food). She worked her way up to higher positions, eventually getting a job at the Children's Television Workshop. While at the Workshop, Janice was told about an opening at Nickelodeon, where she really wanted to work.
Janice Burgess joined Nickelodeon in 1995 as an executive-in-charge of production. In her words, she interviewed for this job "about 11,000 times." In 1998, Janice was given the opportunity to pitch a live-action TV pilot at the request of her manager, Brown Johnson. She liked Janice's characters, but Brown didn't approve the show for production. Brown asked Janice to retool her idea into an animated show, and another pilot was made.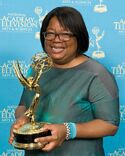 Janice's animated pilot was approved for a first season of 20 episodes in 2003. Janice Burgess was the executive producer for the show, which continued to run for three more seasons. In 2006, she described her work on the show very positively: "making The Backyardigans has become sort of like an adventure that I go on with my friends. Of course, we get paid, but we do get to be carefree in our work, enjoy each other, hang around a lot, travel a little bit, and make up stuff."
After The Backyardigans wrapped production in 2010, much of the series' staff members regrouped to work on Nickelodeon's Winx Club, including Janice. She worked as a writer, story editor, and creative director on the action-adventure series. On both Winx Club and The Backyardigans, Janice took inspiration from action movies:
"

I really enjoy a big adventure. I think Die Hard is one of the greatest films ever, not to mention Terminator 2. I love those big films... I wanted to bring some of that fantastical nature to young children, but to do it in a way that is safe, hopefully not scary, and not 'imitatable' except in your head.

"
—Janice Burgess (source)
Community content is available under
CC-BY-SA
unless otherwise noted.