The London pub is an establishment located in London, England. Pablo (as Agent Secret) once visited the building in order to meet his secret contact and to receive top secret information.
Looks
The pub's exterior is black and white. One black roof covers the top of the building.
Appearances
The pub has appeared in one episode of The Backyardigans: "International Super Spy: Part 1" from season two.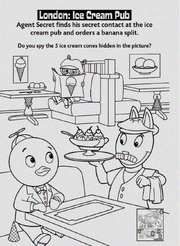 Community content is available under
CC-BY-SA
unless otherwise noted.