"Me and My Friends" is a live-action pilot that was filmed at Nickelodeon Studios Florida in September 1998. The pilot's concept was later reworked into The Backyardigans.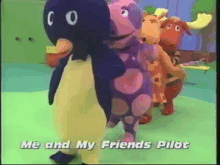 Characters
Plot
The plot featured Uniqua, Pablo, Tyrone, and Tasha having adventures in an early version of the backyard.
Production
The characters were designed by illustrator Dan Yaccarino. Costume designer and developer Yvette Helin in New York worked with her team and sculptor Sal Denaro to realize the two-dimensional characters into life size walk-around character costumes. Yaccarino was a supervisor for the costume-building process. Yugi Yashimoto and Dan Quinn were hired to realize the head sculpts full size and engineer various remote control effects such as moving eyes and mouths.