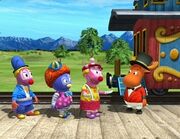 Ringmaster Tyrone is the director of Tyrone's Terrific Traveling Circus. He used to hate clowns and very often screamed "CLOWNS!" at the top of his lungs, causing an echo every time. He currently loves clowns.
Looks
Ringmaster Tyrone is primarily orange. He wears a red jacket, a white undershirt, white pants, a black bowtie, a black top hat and black shoes.
Appearances
Tyrone has played Ringmaster Tyrone in one episode of The Backyardigans: "Best Clowns in Town" from season two.